By Nizam Ahmed
DHAKA (June 1, 2012) – Bangladesh, known as the bottomless bread basket in the 1970s, is now an emerging South Asian economy, with annual exports of some $23 billion, mainly from garment products, remittances of some $18 billion and GDP growth of over 6% despite its confrontational politics over past decades, analysts said on Friday.
Its annual food production now stands at more than 35 million tonnes, mostly staple rice, sufficient to feed its approximately 156 million people over an area of 147,570 sq. km. (56,977 sq. mi.) of mainly flat alluvial plain, with hills in the northeast and southeast, officials of the Ministry of Food and Disaster Management said. The country ranks 9th worldwide by population, close behind Russia, and 12th by human population density.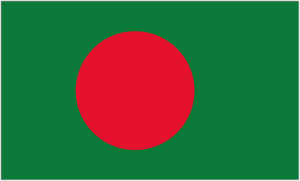 Standard & Poor's Ratings Services on May 31st affirmed Bangladesh's BB- long-term and B short-term foreign and local currency sovereign credit ratings, with a stable outlook.
The transfer and convertibility (T&C) assessment remains BB-.
With GDP worth $96 billion, the country received the same S&P rating and outlook for the third consecutive year. The first yearly rating took place in 2010, officials of the Central Bank of Bangladesh said.
With this latest ranking, Bangladesh is rated second highest in South Asia, behind India (BBB) and ahead of Sri Lanka (B+) and Pakistan (B-). Other countries in the BB category include Turkey, the Philippines, Indonesia and Vietnam.
The government has recently finalized a long-term perspective plan, aiming  to make Bangladesh a middle-income country by 2021 by raising per capita income to $2,000, officials of the Ministry of Finance said.
According to the plan, the government is working to bring the annual rate of inflation down by 2021 to 5.2% from the current average rate of 9.93% through the proper management of monetary and revenue policies. The budget of the current fiscal year to June 2012 had targeted maintaining the annual inflation rate at 7.5%.
According to the Bangladesh Economic Review 2011, per capita income was $818 in the 2010-11 fiscal year and $751 in 2009-10.
The United States and the West define Bangladesh as a moderate Muslim democracy. The country successfully crushed a rising terror group that wanted to establish Islamic sharia law at the beginning of the new millennium. The militants were subdued after six top leaders were executed in 2007 and 200 others were sentenced to long prison terms. 
Exports and the inflow of remittances to the country have been increasing despite the continuing global slowdown, traders said.
Clearly Bangladesh has achieved remarkable progress since its independence in March 1971.