AeroFarms is revolutionizing agriculture. It's on a mission to "combat our global food crisis by leveraging our patented technology and farming locally". 
How? Since 2004, AeroFarms has been operating vertical indoor farms. So what is a vertical farm? As The Good Times reported back in June 2012, "It's indoor farming, like the concept of greenhouses, but on a much larger scale. It's buildings, many storeys high, in the middle of urban centers, in which crops grow continually, protected against hail, disease, drought or monsoons."
The result?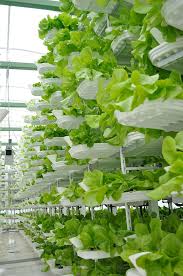 According to AeroFarms: "We disrupt traditional supply chains by building farms on major distribution routes and near population centers. We defy traditional growing seasons by enabling local farming at commercial scale all-year round. We set a new standard for traceability by managing our greens from seed to package. And we do it all while using 95% less water than field farmed-food and with yields 75 times higher per square foot annually."
To boot, the firm uses 1% of the land required by field farming, while reducing 98% of harmful transportation emissions. Plus no pesticides are used.
The company, which is expanding quickly, describes how its technology is behind its success. It grows produce without sun or soil in a controlled indoor environment. It uses its own aeroponic growing system, a technique to grow plants in which the roots hanging suspended in the air receive nutrients, water and oxygen through fine mist. According to the firm, this system "offers faster harvest cycles, predictable results, superior food safety and less environmental impact".
The advantages also include "smart light", which AeroFarms says means, "LED lights to create a specific light recipe for each plant, giving the greens exactly the spectrum, intensity, and frequency they need for photosynthesis in the most energy-efficient way possible"; "smart data", which means "plant scientists monitor more than 30,000 data points every harvest" and "are constantly reviewing, testing and improving our growing system using predictive analytics to create a superior and consistent result"; and "smart pest management", which means that in the "controlled, indoor environment, our growing methods disrupt the normal life cycle of common indoor pests so that they never get started".
Despite these advances, the naysayers will suggest that vertical farms only grow a limited range of crop species, that they can only supply a very small part of populations' total food needs, that they target the elite, or that they don't take into consideration the lives of the people who live in economically depressed rural regions where most food is grown.
Nevertheless, vertical farming's use of much less water than conventional agriculture, its high yields, the small percentage of land it requires, its non-use of pesticides, herbicides or fungicides, and its significant reduction of transportation emissions make it a positive, world-changing innovation that can be developed alongside conventional farming techniques.