The International Trade Centre's EnACT programme is working in Jordan to create sustainable economic opportunities for small and medium-sized enterprises (SMEs) by connecting them to international markets and non-traditional high-end buyers. In September 2011, three Jordanian handicraft manufacturers were introduced to the French market through a unique business meeting with the Louvre Museum in Paris. The result: today, handicrafts from EnACT-supported SMEs can be found on the shelves of Louvre Museum boutiques.
In fact, the Louvre Museum's purchasing department has become a potential partner to ITC. With a budget of 70 million euros a year, it is not only responsible for procuring items for the Louvre Museum, but ensures the consistent supply of products to boutiques belonging to 40 state-owned museums, all of them falling under the umbrella of a national French institution called "Réunion des Musées Nationaux".
Jordan's handicraft sector was chosen because of the predominance of women working in this sector, most of the time in workshops situated in isolated rural areas. Several people are involved in making one single product, which means one product sold on the market generates many employment opportunities. For example, at Silsal, one of the participating SMEs, producing each piece of handicraft requires 25 people working in tandem during seven stages over two months. All work takes place on site and, whenever possible, all materials are local. Then the product is packaged and shipped, which creates additional employment opportunities throughout the value chain in Jordan.
Three top tier Jordanian companies were selected to be the first participants of the marketing mission to Paris – Silsal Ceramics, Jordan River Foundation and Nadia Dajani Jewellery. The opportunity has been a real eye-opener for these women representatives of Jordanian handicraft: they made a number of business contacts and discovered that a lot of potential exists for their products, even if some adjustments in terms of design and prices are necessary to integrate international markets.
This opportunity is what led to the business meeting with the Louvre Museum's purchasing department and consequently to business for these companies: the Museum's purchasing department immediately placed orders with them. Back at home, the three companies took the lead and lobbied the government for support for their participation in the 2012 edition of Maison & Objet with a Jordan booth.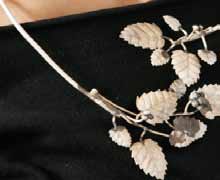 On the marketing front, EnACT has convinced Royal Jordanian Airlines to launch an unprecedented promotion campaign. Throughout 2011-12, a series of articles on traditional handicraft products "Made in Jordan" are being published in the in-flight magazine, Royal Wings. The introduction of a section profiling women-owned companies and underlining Jordan's culture and heritage is an extraordinary opportunity to display high-quality Jordanian handicrafts for the international marketplace, and therefore to foster export possibilities. These articles will be seen by millions of travellers this year, not only those who travel to Jordan, but all those who fly Royal Jordanian to other parts of the world. This has been possible thanks to the support of the Ministry of Trade and Industry and the active participation and trust of the beneficiary enterprises in the EnACT programme.
In addition to these efforts, six handicraft companies and associations have already taken the initiative to join their forces within a consortium to enhance their products' promotion through one Web portal: www.artdesignjo.com
While EnACT continues to work in bringing new buyers to the table and assertively market Jordanian products abroad, it is also partnering with national trade support institutions such as the Jordan Enterprise Development Corporation (JEDCO) to develop the competitiveness of the handicrafts sector. Following recommendations of a survey conducted under the programme in the summer of 2010, several capacity-building missions and workshops are being organized on product design, quality and innovation, packaging, competitive pricing, cost-effective sourcing, understanding market preferences, negotiation and compliance with buyer requirements. EnACT believes in building national capacities and intra-regional linkages. National and regional experts have been involved throughout the programme. Capacity-building workshops are simultaneously conducted in Arabic in order to ensure maximum reach to local populations in remote regions within the country.
By focusing on the handicrafts sector in Jordan, developing the brand of Jordan with credible entities such as the Louvre in Paris, EnACT also enhances the sourcing of products from different governorates in the country for eventual export abroad. This creates high-skilled employment opportunities for the women who make these products. Through the various workshops described above, it improves the competitiveness of these producers. Marketing handicrafts abroad attracts attention to the cultural heritage of the region and encourages tourism towards the region.
Read the overarching story of EnACT. In this series, read also about the EnACT programme in Egypt, Tunisia, Morocco and Algeria.