In 2011, the EnACT programme in Algeria put a special emphasis on supporting the inclusion of women and youth in international trade, specifically focusing on raising awareness of Web marketing  and e-commerce solutions as affordable and efficient tools to conduct business through the World Wide Web, their benefits and their techniques. Jointly with the Ministry of Trade and the national trade promotion organization ALGEX, and in partnership with SEVE, the women entrepreneurs association, EnACT initiated concrete capacity building initiatives to leverage the Internet to promote, market and sell products and services throughout the region and beyond, with a special focus on social media and free and open-source software.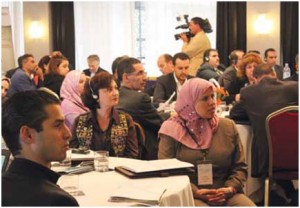 The ITC has developed a series of Enterprise Competitiveness Web marketing and e-commerce capacity building modules, which are supported by online diagnostic tools. The Web promotion training puts a strong emphasis on social media. Indeed, social media is playing a major role in today's society and especially in day-to-day business activities. Beyond traditional marketing techniques such as the organization of events and business trips, social media have significantly reduced the cost of information sharing and online promotion. Sites such as Facebook, Twitter and LinkedIn enable small and medium-sized enterprises (SMEs) with few resources to reach out to a global audience. However, social media marketing requires a strategic approach and resources, which SMEs usually lack, as in the case of Algeria.
To identify potential candidates for the two-day training, a series of awareness raising events took place in Algiers and Annaba, targeting women and young entrepreneurs. In parallel, a rigorous selection process was held to hire two local trainers who also needed to be trained to deploy the ITC training on Web marketing and e-commerce. The training took place in September 2011 in Sidi Abdellah Cyberparc in Algiers.
The national trainers then replicated the training a second time in Algiers, then in Annaba, Oran and the last session took place at the end of January 2012 in Ghardaia. At this last training, 600 kilometres South of Algiers and held in partnership with the Ghardaia Chamber of Commerce, the two-day workshop for young entrepreneurs on Web marketing was delivered by two Algerian trainers. They were first trained at ALGEX, the Algerian Export Development Agency, by ITC's Web marketing & e-commerce practice.
Participants in the workshop included businesses working in optical lenses; diversified plastics and metals manufacturers; dates exporters; companies specialized in weaving and textiles, as well as a company producing potatoes and peanuts. A number of university students also attended.
Ghardaia is known for the products mentioned above as well as for camel milk, which is yet to be exported, but holds a major potential for the region's future exports because of the high nutritional content and demand for the product from the Gulf Cooperation Council (GCC) countries.
Trainees evaluate very positively the mix of a training package of international standards and the intervention of local trainers, who are very much aware of the local realities and problems.
Empowering young entrepreneurs in landlocked outlying Algerian desert areas with the Web allows them to reach national as well as international markets for their specialty products. Recent reports in the region show that the Web mostly benefits women entrepreneurs since they are the ones having transport and logistical problems reaching their clients. Additionally, using modern technology gives tremendous competitiveness boost to businesses in the region. By enabling young Algerians to spread the knowledge based on ITC know-how, EnACT is ensuring the sustainability of its interventions.
Benefits of the training
SMEs are more aware of the importance of being visible on the Web
Entrepreneurs realize that having a Web presence can be easy, fast and inexpensive
Companies that already have a Web presence are upgrading their websites to make them more usable and interactive
There is an increased presence of business leaders on social networks, in particular the professional network LinkedIn
Companies are better aware of the importance of choosing a domain name that gives a professional image of the company through e-mails and websites
A dedicated LinkedIn group allows participants to ask questions and share advice as they implement the workshop's "how-to" section.
EnACT and Algeria's handicrafts sector
Algeria's EnACT programme pays special attention to the handicrafts industry and its promotional activities because the sector contributes to the reduction of unemployment, is a major creator of employment itself, also tackles issues of gender, and reaches deep into the regions where the products are made. As a technical partner of the National Agency for Algerian Handicrafts (Agence Nationale de l'Artisanat Algérienne – ANART), the agency responsible for developing the country's handicrafts sector and promoting exports, the EnACT programme has worked on two areas:
1. Assisting ANART to better integrate artisans with markets outside the country
After a number of years of absence, EnACT encouraged ANART to participate in the international Maison et Objet fair in Paris in September 2011. Participation in a trade show is a concrete and effective action that allows participants to integrate into the workings of the international market. Eight artisans selected on the basis of product quality and export potential were involved in the fair. It allowed professional buyers who regularly visit such fairs to become more informed about the possibilities of sourcing from Algeria. Algeria's stand received 42 buyers representing department stores, multi-brand chain stores, retailers, wholesalers and galleries, which resulted in four firm orders. Most importantly, ANART will return to the Maison et Objet fair in 2012 with a minimum of support from EnACT because they have learned the lessons for success.
2. Showcasing Algeria's tourism sector through handicrafts
EnACT proposed a travelling handicrafts exhibition to the Ministry of Foreign Affairs, Ministry of Commerce and ANART in 2010. Once accepted, EnACT published a catalogue in English, French, Spanish and German to provide support in the three European capitals where the exhibits took place – Paris, Madrid and Berlin. In all three capitals the exhibition attracted much interest in intellectual circles and among the trendsetters in design and interior design. Sending such positive images around the world softens the impact of the current turmoil in the region, giving the potential traveler a peek into what else is out there. By promoting exports from the handicrafts sector in Algeria EnACT is not only creating employment opportunities across the country; it is also contributing to the introduction of Algerian tourism potential worldwide.
Read the overarching story of EnACT. In this series, read also about the EnACT programme in Egypt, Tunisia, Morocco and Jordan.
Tags
Algeria
,
ALGEX
,
ANART
,
competitiveness
,
employment
,
EnACT
,
handicrafts
,
Internet
,
ITC
,
social media
,
women